Before I went to Outdoor Retailer Snow Show 2023, I thought it was a tradeshow where manufacturers in the outdoor industry get together to show off their latest collections to retailers. I was wrong. It's that and so much more. While I worked behind the scenes long days and nights, I realized this industry gathering is all about the people, the community, and businesses
But for me personally, it was an amazing
experience to finally meet clients and media in person. I was able to learn more about my profession and to push myself out of my comfort zone. It was a whirlwind of energy, excitement and personal growth.
I'm at the start of my career and I feel so fortunate to have had this experience and access to programs, people and events that a novice might not experience elsewhere. This opportunity is integrated here at CGPR but it manifests in the outdoor industry and at Outdoor Retailer. I was nervous at first but felt welcomed and instantly part of a community.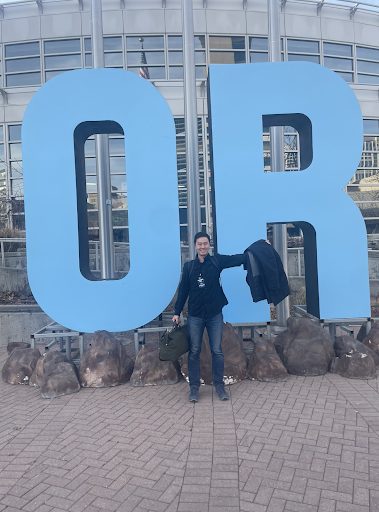 CGPR Account Coordinator, James Edwards, standing in front of the Outdoor Retailer logo
Some of the highlights included……
Meeting Media Friends: Meeting media and clients in person, ones that I have spoken to on calls during the last year and new contacts with whom I now have an instant connection with that
Media Preview: Meeting so many great journalists at the OR hosted Media Preview was an incredible experience. I was able to spend time with each one in an informal setting and have meaningful one on one conversations. I learned that affiliate marketing is here to stay and received many tips on best pitching practices. The Media Preview originally was created for exhibiting brands, but this year PR agencies were invited to showcase clients that were not exhibiting in an intimate setting the night before the show began. This year's event was very successful and saw record attendance for journalists. I'm looking forward to this growing for OR Summer.
It snowed! It was an epic day at Brighton Resort for the inaugural The Summit by Outdoor Retailer. From snowboarding and skiing to guided classes, mother nature was there to remind us of why we do these activities and are part of this community.
Sustainability was top of mind: As a 20 something, I am very aware of the need to make sure the earth is healthy and around for a long time. I was pleased to see the efforts from brands with an authentic focus on sustainability. LAND introduced the DISTRICT e-transitional motorcycle with a proprietary battery capable of charging smart devices like phones, laptops, and RVs. Paka debuted their PakaFill lightweight down jacket insulated with a bluesign® certified recycled poly and natural alpaca fibers — all traceable to their source. Jack Wolfskin showed its tapeless jacket utilizing their proprietary Zero Tape design eliminating more than 60 feet of seam-sealing tape.
The Innovation Awards: The Innovation Awards highlighted many great technologies and designs with WoolAid being named product of the year. This award stuck out to me the most. WoolAid developed its Hyperfine Merino Wool Adhesive Bandages to be biodegradable, plastic-free, sterile, and the fabric is made from 100% Hyperfine merino wool. Merino wool is soft, helps regulate body temperature, transports sweat away as a vapor, and cancels out odors.
Some firsts
Dinner with Media: This was the first time I had a professional working dinner with the reporters, all of whom I had never met. It was an eye-opening experience to meet people with a common passion for the outdoors, as well as to have a first hand understanding of how the media landscape is constantly evolving.
The Chaos of Handling Multiple Live TV Segments: I staffed and organized several consecutive early morning live TV shots at booths from local NBC and FOX stations. It had to be on my toes. These moments provided amazing learnings for future work with broadcast.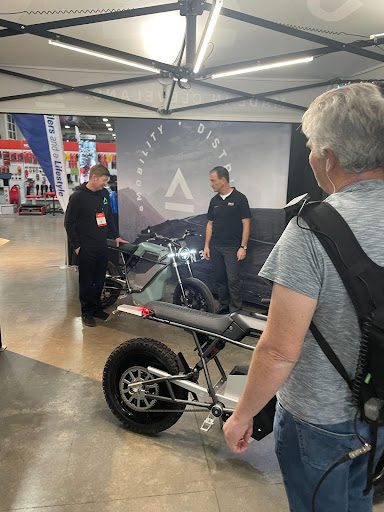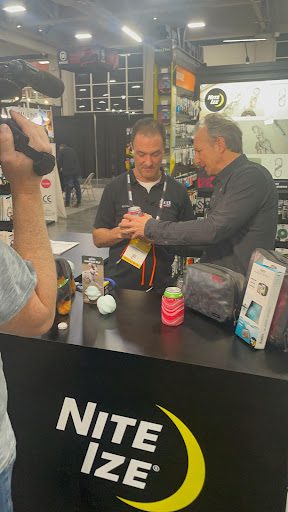 From L-R: LAND Energy's CEO, Scott Colosimo, being interviewed by KSTU's Rich Bonaduce. KSTU's Rich Bonaduce interviewing Nite Ize's CEO and Founder, Rick Case
The First Outdoor Retailer Block Party Open to the Local Salt Lake Community: I attended my first party at Outdoor Retailer Snow Show that celebrated Outdoor Retailer's return to Salt Lake City with food trucks, drinks, a photo booth bus and a trampoline show by the Flying Ace All-Stars and a surprise snowstorm. The snow storm seemingly came out of nowhere but was a fitting end to a great event and led to a successful start for day 2 of OR Snow Show.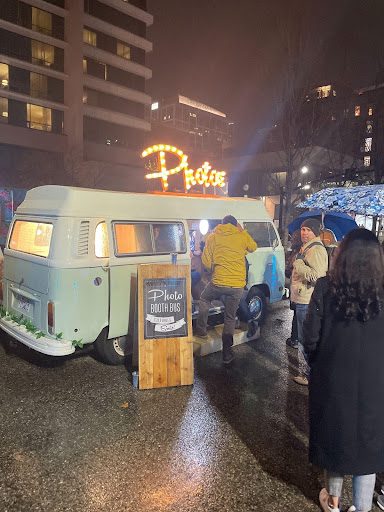 The Photo Booth Bus at the Outdoor Retailer Snow Show Block Party
The Dogs
My coworkers are always showing off their pets and it was refreshing to attend a professional event where dogs were happily in attendance. I met Snacks, the corgi, at the Innovation Awards dinner as he was sitting patiently waiting in her adorable dog bed and Maya was happily attracting everyone's attention on the show floor. She was kind enough to let me take a picture.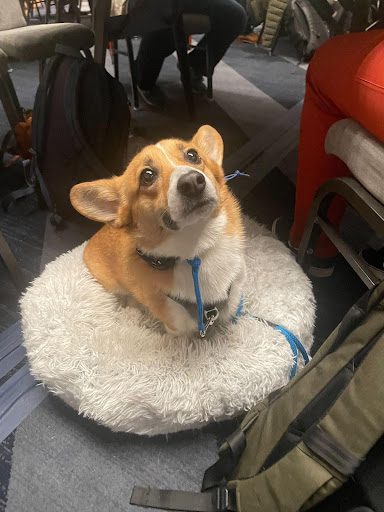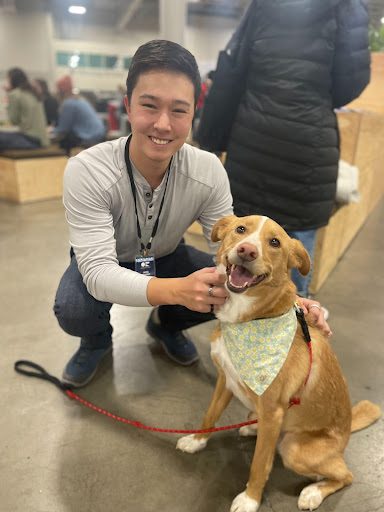 From L-R: Snacks the corgi at the Outdoor Retailer Innovation Awards. CGPR Account Coordinator, James Edwards, with Maya on the show floor.
My Takeaways?
While it was the hardest and most exhausting experience I have ever had at a job, it was so rewarding and I learned an incredible amount about people, the industry and my work ethic.
Another first, now I have to do my first expense report.